VelociRanger
I'll probably do it tomorrow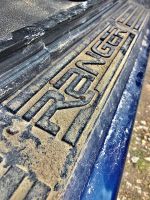 Joined: Mon Jun 25th, 2018
Posts: 679
Name: Justin
Occupation:
Interests:
Reputation:
Reputation Points: 1284
Well guys, it seems the truck knew I was indecisive and made the decision for me. I drove around the block, nothing crazy, max speed was 45. It over heated twice, started knocking like crazy, would die when put in drive or reverse, idled SUPER low, aaaaannnndddd the trans started smoking. Just driving around the block. I think she's ready for her new life.



____________________
knowing when to quit is wisdom, being able to quit is courage.
2008 Ranger 2.3 5 speed. Lifted 2" in front and 2.5 in rear. 31x10.50r15 on 15x8 -19 wheels.

1983 Ranger, reluctantly taking apart. Donor/project vehicle.

1984 Ranger, currently in ≈861 pieces. She's donating what's salvageable.