VelociRanger
I'll probably do it tomorrow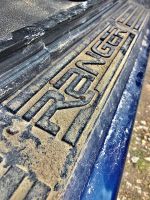 Joined: Mon Jun 25th, 2018
Posts: 693
Name: Justin
Occupation:
Interests:
Reputation:
Reputation Points: 1323
Ohhhhhhh…..lol sorry, I guess all you old guys are finally rubbin off on me. I did see that one, but it's not a long bed. I really want the long bed, otherwise I'd be all over it. I think there's not much left to do on the title but wait now and see what they said. All my paperwork is in order.



____________________
knowing when to quit is wisdom, being able to quit is courage.

1983 Ranger, reluctantly taking apart. Donor/project vehicle.

1984 Ranger, currently in ≈861 pieces. She's donating what's salvageable.