12° North Industries
SITE SPONSOR

Joined: Thu Nov 23rd, 2017
Posts: 383
Name:
Occupation: Vehicle Upfitter
Interests: The great outdoors, nature, back to basics
Reputation:
Reputation Points: 808
.






Ford Ranger "Single-Cab"  (93-97) Rockrails/RockSliders
Ford Ranger "Single-Cab"  (98-11) Rockrails/RockSliders



Rising Opportunities..




For over a year now, we have been asked every conceivable question of when, WHEN will we be offering a Rock-Rail or a set of Rock-Sliders for a SINGLE-CAB Ford Ranger for the '93-11 years.  So I am coming to the various Ford Ranger communities reaching back out to all of those who questioned and stomped their feet demanding a set of Rock-Sliders for their Single Cab rigs and trucks?




I am going to be boldly honest, pricing I am not going to get to deep into right now.  What I will tell you is to expect them to be competitively priced when Off-SALE.




What we want to do is find all the people who spoke of interest that we need and can help support us in an endeavor to bring a increasingly asked for product.  We have the availability and means of a production opportunity on a larger scale handmade here in the U.S. by American tradesmen.  




As for the basics;




The rocker panel is one of the most vulnerable areas on your Ranger when driving offroad. Factory steps and aftermarket nerf bars look nice but are made of thin material and are typically mounted to the body which won't do much to protect your truck.


These rock sliders are going to be extremely strong. They'll be constructed of 2" square tube with a 0.1875" wall and 1.75" x .0.120" wall DOM round tubing.  They bolt directly to the frame using 1/4" thick, gusseted mounting plates that tie into both the side and bottom of the frame.  This nets you a stronger frame attachment vs. simply bolting to the side of the frame.  They make great Hi-Lift jack lift points and will easily withstand impacts from any obstacle you may come across on the trails.

The optional dimpled tread plate adds a formed plate that bridges the gap between the outer round tube of the rock slider and the main square tube.  Once welded in place, the tread plates increase the rigidity of the sliders as well as act as traction aids, making the sliders more functional as steps.  The standard sliders can be used as steps but you're only stepping on a single piece of 1.75" round tubing.  The tread plates add to the style and finish of the rock sliders as well.  Both options are angled up at 30*.

Weight: 59-67 lbs each



Any other specifics we do not have just yet.




But to make these worth doing, on a production level during times like they are, semantics aside; this is about the engagement of commitments and interests.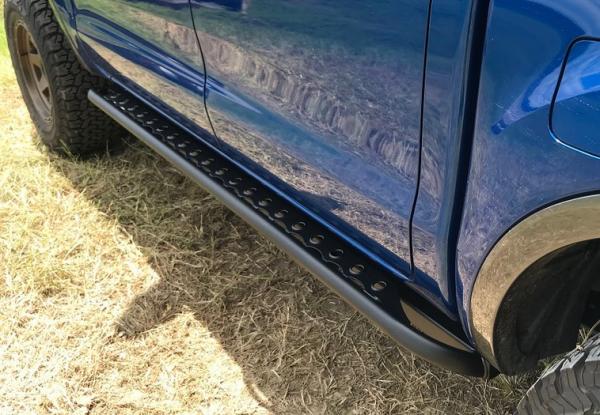 **Modeled on 7th Gen Ranger**




.

Last edited on Wed Jun 15th, 2022 12:21 pm by 12° North Industries



____________________
12° North Industries
Las Vegas, Nevada 89118
Web http://www.12degnorth.com