VelociRanger
I'll probably do it tomorrow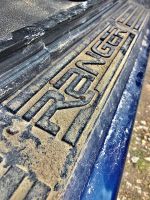 Joined: Mon Jun 25th, 2018
Posts: 688
Name: Justin
Occupation:
Interests:
Reputation:
Reputation Points: 1313
Might've punched a hole in the oil filter, bent it a little bit maybe? Not sure. I too would suggest what Tsquare did. Maybe another picture of up underneath looking straight up? Nice truck btw. Which engine? I assume the 2.9 v6, don't believe the 2.3 was available with 4wd.

Last edited on Tue Oct 5th, 2021 03:28 am by VelociRanger



____________________
knowing when to quit is wisdom, being able to quit is courage.

1983 Ranger, reluctantly taking apart. Donor/project vehicle.

1984 Ranger, currently in ≈861 pieces. She's donating what's salvageable.