VelociRanger
I know a little about a lot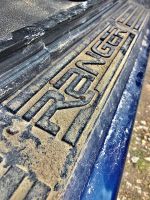 Joined: Mon Jun 25th, 2018
Posts: 629
Name: Justin
Occupation:
Interests:
Reputation:
Reputation Points: 1179
Got the cab off, sketchy as frig 

All mounts out, started pulling. My thinking was to get it on the bed, pull the frame and bed out from under it and put it on the ground.




Cab was halfway up when I realized the strap was hanging on with hope and a prayer





Got it on the bed, super sketch man



Readjusting a strap. Safety last!




I didn't get a picture of the actual butt pucker moment, the cab was suspended in the air by a 20 year old 2x6 lol...

Got the bed down, realized halfway through that I wouldn't be tall enough to release the come along dangling from the beam....,I cut the strap going across the cab once it was free from the bed.

Tucked her in for the night, she cooperated well and looked tired. This was post-strap cutting, it's on the ground now.



If I had an engine hoist now would be the time to pull the engine and trans, sadly I do not. Don't worry, I covered the engine with a trash bag then set the head on top, it also has a trash bag on it. Tackling the bed tomorrow, I got some drill bits to drill out the heads of the bed bolts, we'll see how that works.

Last edited on Sat Nov 28th, 2020 12:22 am by VelociRanger



____________________
knowing when to quit is wisdom, being able to quit is courage.
2008 Ranger 2.3 5 speed, basically stock
1984 Ranger, currently in 587 pieces