VelociRanger
I'll probably do it tomorrow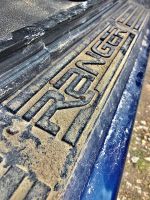 Joined: Mon Jun 25th, 2018
Posts: 693
Name: Justin
Occupation:
Interests:
Reputation:
Reputation Points: 1323
410customs wrote:
HELL YEAH!

CALL IT 84 Ranger project "rust is the new black" 

I love it dude, you repair this rust you mine as well plan to keep this thing forever and give it to your kids because you are gonna fall in love with it! Restoring a 84 Ranger gets you very very high marks in my book. This truck will be worth a fortune someday........especially to you!!!!!!!

Way to innovate. Have you tried Craigslist for a good used small genset? Honda EQ2000 is about the best small generator you can get....but harbor freight, champion power, subaru, generac, there are other good ones too.........
I've checked Craigslist, but honestly I don't trust people. I don't want to buy a generator used and then it fail in a couple weeks and I'm stuck. I'd prefer to buy one and if I have any problems then I'll have a warranty of some sort, hopefully. I've been checking this one out; 12,000 starting Watts with 9,000 running watts, with 120/240 input and circuit breakers. It's just from a brand I've never heard of, but all the reviews are good and it's nearly the same price as the predator 9000- and it has more wattage!! 

https://www.lowes.com/pd/A-iPower-12000-Watt-Gasoline-Portable-Generator-with-Oem-Engine/1000816408?cm_mmc=shp-_-c-_-prd-_-sol-_-google-_-pla-_-240-_-sosgenerators-_-1000816408-_-0&placeholder=null&gclid=EAIaIQobChMIqfLCp5jr6gIVe_rjBx2U1wJMEAQYASABEgJK7PD_BwE&gclsrc=aw.ds


410customs wrote:
I have some advice for you
WELDABLE PRIMER
This is like a spray coating for the metal bits. New rust usually begins at the welds. Why? Because welds are done to bare metal and bare metal exposed to atmosphere begins to rust. So spray both sides of all metal bits with weld through primer before welding = less chance of rust.
Coat all floorboards and such with chassis saver or similar product (like POR15) this will keep moisture out and your new panels protected.
This is NOT a job you want to do twice......
I had thought about weldable primer, I figured I may not need it because I plan on doing all cutting/welding in one weekend and then painting it up, but you're probably right. Better safe than sorry! Any good weld through primer you suggest? POR15 is definitely on my list. In order to do the underside of the floor, I'm thinking I'm going to sand and patch the floor pans and once the top side is done, yank the body off and sand and sand and paint the underside. Or, should I yank the body off before I patch the inside to see how bad the rust is underneath? Like I said, I did the poke test with one of those electrical picks, I figured a pointy end would be easier to poke through bad spots than a blunt screw driver, and there's some pretty good spots

Last edited on Sun Jul 26th, 2020 04:19 pm by VelociRanger



____________________
knowing when to quit is wisdom, being able to quit is courage.

1983 Ranger, reluctantly taking apart. Donor/project vehicle.

1984 Ranger, currently in ≈861 pieces. She's donating what's salvageable.