VelociRanger
I procrastinate...a lot

Joined: Mon Jun 25th, 2018
Posts: 406
Name: Justin
Occupation:
Interests:
Reputation:
Reputation Points: 676
I got a CEL on the other day and so I went to Walmart to get a code reader, well they had this Bluetooth one called the "Hypertough HT200" that was fairly cheap and seemed good. Well, if anyone is interested and good with stuff like that I will consider purchasing one and sending it to you so you can check it out. I've kinda got it figured out, but someone who is more knowledgeable in that area may find it more beneficial. If anyone can look at these screenshots and tell me if all of the data displayed looks good, that would be appreciated. Also, the CEL is P0128- thermostat stuck open, so I'm not extremely concerned about it at the moment.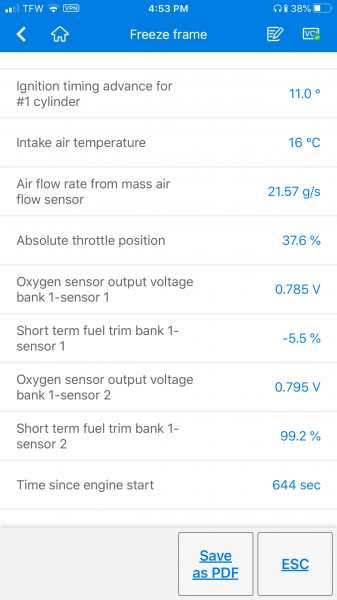 As a side note, these readings were taken with the engine off key on. The first two are just captures of when the CEL came one, which is cool that the app does that and picks that up.



____________________
knowing when to quit is wisdom, being able to quit is courage.


If at first you don't succeed, grab a beer and finish tomorrow.