410customs

Idahome

Joined: Wed May 2nd, 2018
Posts: 2144
Name: Jamie
Occupation: Elevator Design Worlds Tallest Buildings
Interests: Ranger Based Vehicles and OFFROAD
Reputation:
Reputation Points: 5399
This 98 Ranger has had it rough!
Started life as a 3.0L 5 speed 4x4 and made it to 202K miles before the head gaskets went
I picked up this Ranger like two years ago when we first moved to Idaho. She is pretty rough! 
3.0, m5od, 1354e, manual locks, manual windows, some bondo, rubber floor, with lots of NEEDS

Bought it from a shop who did all the work, the story goes they kept this thing running as a daily driver for some lady, just did a new clutch and some front end work and then the head gaskets let go.
That's where I come in, haggled, made the deal, dragged it home parked out back with plans to fix it up.....then it sat. For two years!
Well now she's in the shop front and center getting the demo done.
Recently we picked up a 96 Ford Explorer sport for $100, bought it for the rear axle really, but turned out I was able to get it running on the trailer, the sport ended up being a stellar purchase! The explorer engine is in excellent condition with low 150K miles. The transmission shifts wonderfully and somebody had just installed a brand new clutch. The explorer was ROUGH but it only needed a little fiddling with the ignition switch to get it to run. Drove it around a little, tested things out then ripped it apart and crushed it.
We kept the 4.0 guts and now they are going into this Ranger.

So I present to you project second chance Ranger. From 98 3.0 5 speed to 96 4.0 and 5 speed.....one of the easiest conversions that can be done.
3.0 = boat anchor
4.0 pushrod = torque monster that can last for half million miles
the choice is clear
the truck is ROUGH, the paint, the interior, neglected for toooooo long.
That's where we come in.........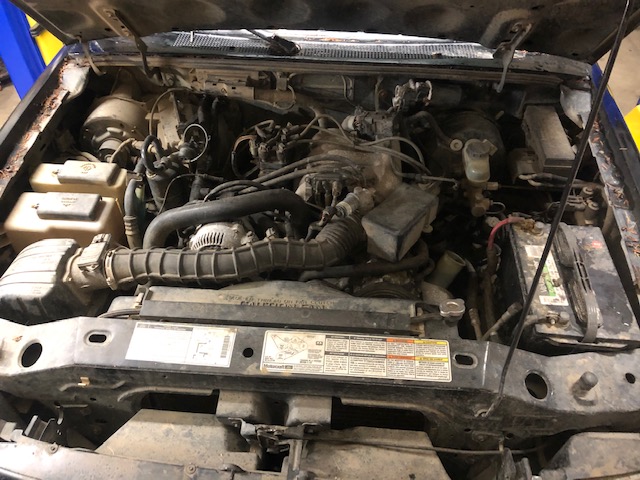 Told you she was rough, these will serve as the "before" pictures

Moose approved



____________________
I build custom RBV, specializing in drivetrain conversions, wiring, suspension and complete custom trucks