TheArcticWolf1911
Gunslinger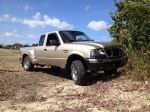 Joined: Sat Nov 4th, 2017
Posts: 416
Name: Cameron
Occupation: Process Technician
Interests: Firearms & Ammunition, Ford Rangers, electronics
Reputation:
Reputation Points: 891
It's been a while since I've posted here, but with the upcoming plans I felt it necessary to do so.

If you're not already familiar with Gold Dust, let me catch you up briefly with just the high points.
She's a 1999 Ranger XLT painted Harvest Gold. Under the hood, she has a 3.0 V6 w/ automatic transmission and 4x4 vacuum hubs, which of course have failed and have been converted to a more manual setup.

On the inside, there's a pair of black converted seats from an 03 Ranger Edge, donated courtesy of mhoward, with black carpet; although originally prairie tan. A mustang dome, overhead console, 02+ expo center console, silverface cluster w/ blue LEDs, and more all live happily inside.

I love this truck, but I'm not entirely happy with it still. I've never liked tan interiors, she needs new leafspring bushings, new upper and lower control arms, tie rod ends, and a few other pieces to compliment parts to come. More on that in a bit.

Here's a few photos as she sits right now. The interior is pretty much unchanged since I last posted, but a bit grimier. Daily driving to a factory job and back has a tendency to do that, unfortunately. The outside recently got some changes, however. I've got an Aries brush guard and a pair of Hella 500FF spot lights now added, soon to be fitted with Hella's 130 watt H3 bulbs. On the rear, I swapped out my amber LED reverse lights to the smaller, halogen, type you see now. These are also fitted with Hella 130w H3s. They make a big difference over stock 55 watt bulbs.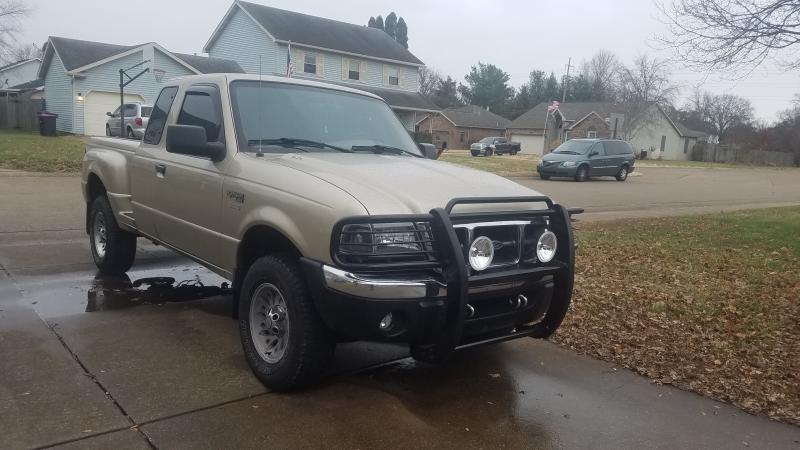 Otherwise, she's pretty much the same, front to back.

Now, I wouldn't make a part 2 just for a brush guard and a couple lights. So, what am I planning, exactly? Well, let me tell you.

The powertrain in this 99 has never been impressive. Sounds nice, but beyond that, it's a slug. Reliable, but a slug. The 3.0 has earned the name 3.slow in spades. So, what's a guy to do? Upgrade it? Nah. 4.0? Could. But, if I'm going to go that far, why not go all the way? 

I'm talking a 5.0 Windsor V8 out of an Explorer. 

As commitment to this plan, here's a couple shots of another truck I bought to drive while Gold Dust is apart. It\s a 1998 F-150 XL w/ 4.2L V6 & M5OD stick shift. Picked it up for $1000, and for my purposes seems to be just fine. Just for transparency, these photos are after I pulled out the interior and cleaned the hell out of it. Previous owner was a smoker and didn't seem to be one for cleaning much, suffice it to say. It also has a hitch, so that may come in handy for later.







But, back to the plans. 

OK, so how am I planning to get that 302? According to what I've read on a tech article, for my 99 4x4 Ranger, a 99 to 01 Expo/Mountaineer should make things the absolute easiest, as it pertains to fuel system setup, pats, and other things. I do have a junk yard nearby with several of these vehicles, so I could pull the parts I need and call it a day. That said, my intention is to purchase a complete donor and sell the rest to that same yard, assuming a friend of mine (who owns a similar year explorer) doesn't want it for parts. 

So, that's the engine/trans and other major components sorted, except one. My Ranger came with a 7.5 inch rear end, and we all know that won't do for the new 5.0. I could take out the rear end from the donor and plunk it under the Ranger with some necessary modification, but I'm not going to bother with all of that, mostly because I don't know anyone with the welding skills to make that happen. Instead, I'm going to take a more OEM approach. It seems that 2011 Rangers came with the rear end that I want/need.

I can get an 8.8 rear end w/ 4:10 gears, limited slip and rear disk brakes ready to roll underneath in one complete package off such a Ranger and call it a day. I like this method more for many reasons, so this is what I'll go with. 

On that same note, I know there's an axle code for this rear end (R7), but I can't seem to find any reference that says it was actually used. I can find 2011 8.8 disk brake 4:10 rear ends all day long with an open diff (97), but not one with limited, not even a burnt up one someone is trying to get rid of. Makes me wonder if it ever truly came to fruition, and R7 was left as an unrealized provision. 

OK, rear axel, drivetrain & parts sorted. What else? Going back to the engine for a minute, we all know the headers from the factory are INSANELY restrictive. From my time on google it seems there's really only one option other than factory. Torque Monster headers. May be pricey, but I can't see myself leaving the factory ones on when I'm going for more power. Oh, spoiler alert, I'm not doing any serious mods to the motor itself. The most it may get (depending on condition/mileage) Is a full tear down and refresh/rebuild. 

Out the block, through the headers and down the..... what, now? Reuse the factory exhaust? Nah. True duals out the back and poking out the rear bumper. I considered dumping before the rear tires, but decided against it for a few reasons that I may go into later. 

Other than the aforementioned suspension components that will also be replaced, there's two other things on my list. First up, a new set of doors. Mine are rusting at the bottom, and appear to be beyond what can be fixed without a cutter and welder. This presents a perfect opportunity to add power locks, windows, and mirrors, so I'm going to take that opportunity. The truck is prewired for it, sans a small harness on the driver's side, so I'm going to do it up that way. Oh, and I'll be sticking with textured 06 mirrors. 

So, what about that tan interior I don't like? Swap for grey parts? Nah. I'm going to dye it jet black with SEM. That carpet is also going to go away. It still looks OK, but the vinyl floor is so much easier to clean and keep looking nice, so I'll be swapping for that instead. 

Now I haven't decided, but I'm considering a set of power seats. We have a set of expo power seats in the attic whose upholstery is shot, but the rest is in good, working, condition. I'd have to get them reupholstered, and for that I'd go with cloth. Not only by reason of cost, but because I've found that you tend to slide around more on leather and vinyl seats, as well as them not being to comfortable when it's really hot or really cold. So, black cloth it is. Maybe splurge on some custom embroidery at the head rest. Maybe.

New window tint will also get put in. Mine is looking worse for wear. 

While we're talking about dying/painting, I left you hanging at the doors. Unless I get lucky and find harvest gold doors, they won\'t match, obviously. Just repaint the doors? Nah. The whole truck is going to get repainted, and the dings repaired. Sticking with the same color? 

That\'s up for debate. I really want to go with a Ford metallic black, but that will increase the cost because the door jambs will need to be repainted as well. Unlike if I go with the same color, where the jambs can be ignored. Painting will be last on the list of things to do, because I don't want to damage the new paint while working on it. Doesn't make much sense to me to paint it first and then do everything to it.

So, bullet points, in no particular order. 

5.0 swap
8.8 Rear end swap w/ disk brakes
OEM manual to power swap w/ new doors 
Dye interior black
Carpet to vinyl swap
Power seats?
Suspension parts replacement
New window tint
Repaint

If you have any suggestions or questions, feel free to ask/post as you please. I can't promise scheduled updates, as this will be slow to start given I don't have the donor as of yet and I'm limited by how fast I get paid, of course. That said, when progress happens there will be information to be shared, even if it isn't particularly exciting.



____________________
1999 Ford Ranger XLT - 3.0 V6 4x4 - Loaded