410customs

Idahome

Joined: Wed May 2nd, 2018
Posts: 1777
Name: Jamie
Occupation: Elevator Design Worlds Tallest Buildings
Interests: Ranger Based Vehicles and OFFROAD
Reputation:
Reputation Points: 3732
here we go
truck is getting some attention
first we tore the engine down and re sealed it with new Fel pro gaskets. I was happy to find the "sealed power" engine gasket kit sold to me on Rockauto when delivered was the Fel pro blue gasket set I prefer to install on these 5.0.
This engine came from a 97 eddie with 169K strong runner. The timing cover and water pump had been replaced prior, when they did the repair they tore the front main seal and it had an oil leak for who knows how long.This drivetrain required lots of cleaning but all the bolts came with little effort. Truck ran like a top, no codes, I drove it into the shop. 
The AWD t case was fubar, the trans was questionable weird shift 2-3, will be used as a core. 
I have a good 4t70w from my collection with only 15K on it since rebuild, so we are using that. 
I found a 97 F150 parting out locally and sourced the good t case and front driveshaft from craigslist

Gaskets were done, engine completely  re sealed and tuned up lots of new parts
All bolts and holes threads chased on the engine. I tossed the 97 explorer exhaust manifolds and oil cooler in the trash. For this build we are using 2001 5.0 manifolds with new gaskets and a 99 explorer oil filter mount, fuel rail and injectors. Also using the 97 eddie bauer PCM
4r70w was drained and cleaned, new rear main seal installed. Trans stabbed and 4406e shift t case from a 97 F150 installed. 98 Ranger t  case shift motor used.

Headed to the junk yard today to get some parts we need like the 98-01 style oil filter mount

The v8 conversion is moving forward quickly now that fall chores are done (firewood, winterize, prep for snow, re arranged entire shop, built huge storage shelves, etc etc)
Should be running in next few days, we will be sourcing rear d shaft and building the exhaust.

Pics!!
this 98 cleans up SO NICELY, started working the paint with a cleaner wax to remove oxidation...so far so good! Well kept 98

Oh and I got a new parts washer!! HOORAY!! Needed a good one for so many years now.....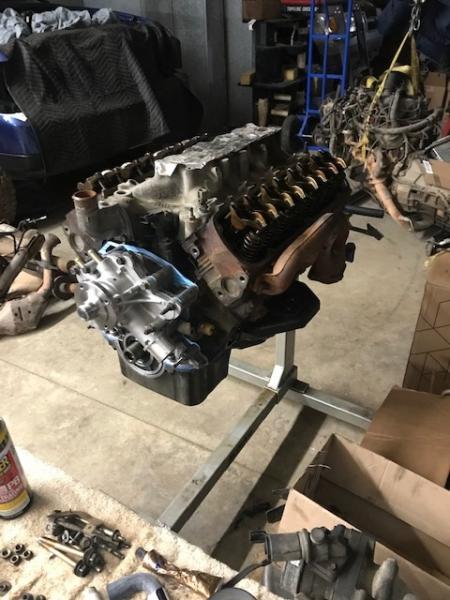 outside for a wash



42 degrees out plenty warm to clean engine bay, right?



clean bay



swapped v8 power steering line and throttle cable
v8 starter harness and trans lines installed engine dropped in place




trans cleaned and drained



4406e with speed sensor from 97 F150



Cats approve the new V8

Last edited on Thu Nov 21st, 2019 12:49 am by 410customs



____________________
I build custom RBV, specializing in drivetrain conversions, wiring, suspension and complete custom trucks