It seems like I've said "Last trip of the year" like three times now, but I keep getting "talked into" going out again....   oh well  haha
So this past weekend I went to Haspin Acres in south east Indiana with a few guys I go to school with. Haspin is 750 acres of hills, creeks and woods. They have miles of trails that are minimally marked and maintained. They also have a lot of clay, that turns into a greasy mess when it rains. In fact, we almost bailed on the trip because of all the rain and snow they got last week. But, we decided to take a chance and spend a weekend playing around in the mud. It rained on and off most of the day Saturday, but Sunday was absolutely beautiful.
There were 4 of us in total in 3 rigs (my ranger, a 2012 JK, and a '95 geo tracker). This was the maiden voyage for the tracker. 
We ran a few of the creek beds first, as they were some of the few places that weren't covered in 6" of mud.
Muddy Ranger (a common theme for the weekend).
Poser flex shot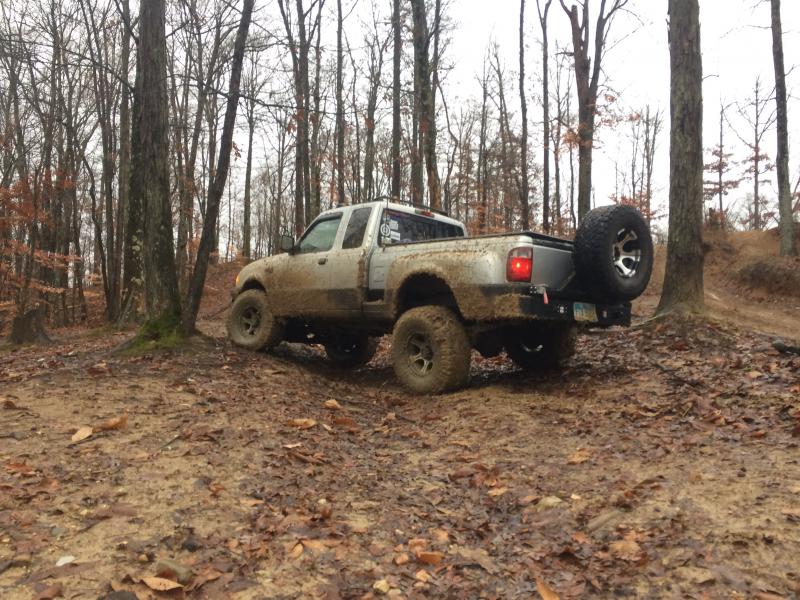 The mighty Geo Tracker (or "Geo Tractor"). This little turd was gettin it all weekend.
More mud, more flex
My rustic, open-air, sleeping arrangements. I didn't want to sent a tent up in the mud, so I pulled the truck up under this pavilion thing and slept in the bed. It was actually pretty comfortable. Granted, it was only in the mid to low 40s at night.
The weather greatly improved for Sunday; 60F and Sunny
Stopping to check out the trail ahead (we ended up finding a work around for a pretty aggressive hill).
We stopped for lunch on the trail. The long wheel based Ranger can be a handful sometimes, but the storage space is second to none  haha
Our lunchtime view
Group photo
Large Go-cart or Geo Tractor?
Jeeper though he was cool.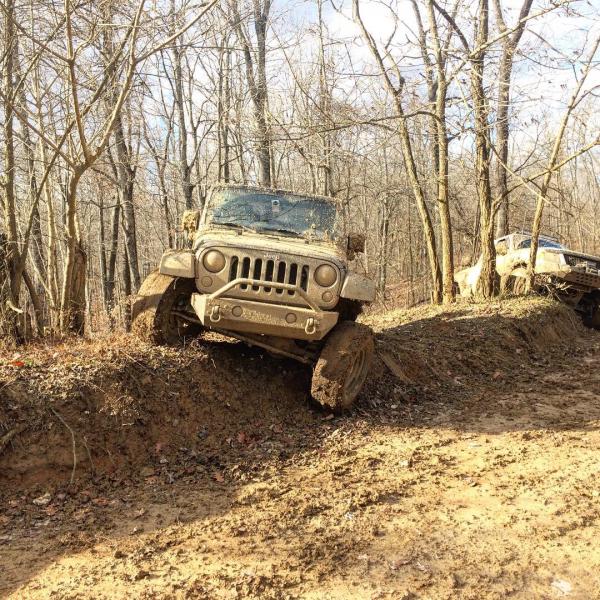 Ranger Flexin'
Planning our next move.
More planning
Tractor mean muggin
"Where are we going?"
"...UP"
Only casualty for the weekend: the silhouette license plate bracket.  I was a little worried it was gonna be in harms way with the new bumper. Guess I got my answer...   haha
Airing up as some late afternoon clouds rolled in.
As usual, it was a great weekend in the woods, even if it was a little sloppy. The truck probably had a couple hundred pounds of clay caked on it. I spent 30 minutes at the car wash yesterday and got most of the topside washed off. I haven't touched the undercarriage yet... that should be fun  haha
____________________
2002 XLT 4x4, 4.0l V6, Silver Frost Metalic, Superlifted and stuff