RiggerWings
RiggerWings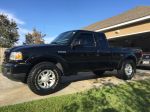 Joined: Wed Nov 15th, 2017
Posts: 306
Reputation:
Reputation Points: 436
Just to liven this thread back up...here's a pic of mine today. Though, it wasn't the main focus of the pic.

Picked up a new bike 2 months ago. 2018 Harley Davidson Road Glide Special. Awesome bike, awesome power, great comfort. Way better than the sport bikes I'm used to. The 2019 models just came out though, and go figure they changed the standard motor in the "special" models to the 114 cubic inch from the 107. Even though the 107 is only 2 years old. FML.




____________________
-John

2011 Ranger Sport 4x4, daily
2008 Mustang GT, garage queen
2013 Mazda CX5, grocery getter
2018 Harley Davidson Road Glide Special, the toy