12° North Industries
SITE SPONSOR

Joined: Thu Nov 23rd, 2017
Posts: 360
Name:
Occupation: Vehicle Upfitter
Interests: The great outdoors, nature, back to basics
Reputation:
Reputation Points: 755
Scrambler82 wrote:
I was wondering IF the Manufacturer has changed their minds about making a Kick Slider for the 2003 Standard Cab Ranger ?

Just thinking out loud... what is the price for the Kick Slider, bear steel ?

Just thinking, if I could get a "Kick Slider"...at a discounted price, I could modify it for the Standard Cab, take some measurements, and let someone know what they are... IF they wanted to make them.

Also, is there any other picture of the "Kick Slider" from the front.

The one in the picture looks like the step is at an angle, the picture of the red truck with the Kick Slider looks flat... ?
Thanks for your time.


So here is the breakdown in simple terms.  It really has very little to do with the manufacture considering the application and or changing their minds and all about what the market has been asking for along with a little bit of negotiations and market support via the market.  There is also the discretion of timing in said market.

We have been selling this product going into 5 years now and on average quote and sell dozens of these a month even in today's obscure volatile market and even more oddly - off sale more often than on sale across all makes and models.  There is also the need to build the proper Base Rock-Slider; Add-in variants of Super-Slider, Flat Out Super-Slider, A Kick-Slider, and Full Covered Kick-Slider all through that process.

When asked what is the price for the Kick-Slider, that is difficult to answer at this time sans the Micro-Texture Powder Coating as its not an option, it's always been included in the cost and development of the product itself.  

Since all of the kits are designed to be completely bolt on capable, if it was as simple as just cutting down and the re-welding a bracket, we'd already have sets available awhile ago.

As for the picture posted, the secondary bar is at a 90° from the main base Rock-Slider, the camera sort of creates an optical illusion with the front of the bar and sequential support braces being swept back at that angle of the camera. 



I did add some additional shots of other options and a close-up of the textured powder coat that's been in place for the last couple years.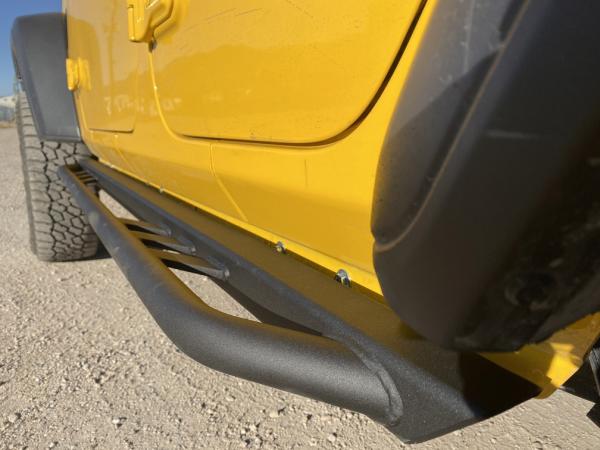 NOTE: Even without considering the shortages in materials and deliveries of, for as long as we've been pushing for it, I personally can count on both hands and not use all 10 fingers for interests and knowing the market place as I do, I'd bet a FREE set of Sliders that half of those people wouldn't actually order on the spot IF I said we were good to go and two more of those orders wouldn't count as they would be for 2 DEMO units alone on two vehicles here. 

Timing is everything but even then, if the market place had enough interest of serious buyers two things would happen.  Not only would we have dozens of prospects adding to a group development and buy option here and in the Ford Ranger communities as a whole giving us a slight hand in market leveraging demand and an available option but..,  we would have people calling non-stop about them and seeing other competition offering it with as much vigor and little hesitation. 

The further problem is despite the patronage and dedication of the Ranger owner(s) of past.  The markets dictate that newer features, designs, materials, the idea that there is more for the dollar when it comes to those things along with safety and even increases in MPG or just the feeling of something new in the driveway, and no losses of reliability.  What none of us want to say or hear despite the elephant in the room.  Our Rangers are certainly dated, they've become old or "Clapped-out" as the younger generations say, and bring little to no NEW value to the market place of the aftermarket as they once did to a market front that barely sees the value in their trucks worth the cost of additional parts that their trucks never came with to start with, and don't need.

When compared to the rivals of the Tacoma, the new Frontier, and even the newer generation of Ford Rangers.  The money is in features and add-ons to the latest and greatest.  Despite certain budget restraints, Most Toyota Tacoma/FJ/4Runner and Nissan Frontier/Xterra owners will throw money down on cry once-buy once items.  sure, might look for the best deal going around but their not scourging for their 10% discount off a $7 oil filter and weighing a purchase based upon that discount. And because of that, product development for those crowds flourishes and because the aftermarket support is there, so does the vehicle platforms get chased further.

You just can't sugar coat the truth, deny it still, and then say the market needs reform.. and its a big pill I've had to swallow when I was excited to have an opportunity to design, market, and sell our own Mid/Long travel suspension options towards 3rd Gen Rangers up.  The niche is way to small and already dominated, the market research would be well spent on focusing on new Ranger or other markets in or coming into development.

Our generation(s) of Rangers just can't or won't support its own cause, and for that reason most is why it is hard to get product development off the ground and why someone working out of their garage is geeked or happy to make a few dozen items for sale for some extra pocket-jingle.  In ways, we've not only aged but shot ourselves in the foot when you see only Maintenance keeping and or full tubed extreme Baja/Ridge Runners in which everything is 80% custom design/fitment.

Last edited on Wed Dec 29th, 2021 02:45 am by 12° North Industries



____________________
12° North Industries
Las Vegas, Nevada 89118
Web http://www.12degnorth.com